As part of Fashion Revolution Week (23-29th April 2018), we've spent time meeting some of the talented artisans who are behind some of our most precious pieces. Now, we're getting to know the three craftspeople behind the Blair dress, one of the key embellished designs from the new season collection at Monsoon. Here are their stories…
Ratan Lal
This is Ratan Lal, 40, who has been working with one of our subcontractors for 15 years. He has a very skilled hand in embroidery and enjoys trying out new techniques at work to improve efficiency in the production process. His wife and son are also embroiderers who work from home.
Rahul
Rahul, 22, who is the son of Ratan Lal, learnt how to embroider from his family. He told us that he'd love to make a dress for his wife someday. He likes to keep fit with regular exercise at the local gym, which he's been able to pay for with his earnings.
Sunita and Bhram
Sunita and Bhram Singh have been married for over 20 years and have two daughters, Mamta and Raina. Sunita is hopeful that her eldest daughter, who is 19, will continue her studies by enrolling in a beauty course. She also told us that ten-year-old Raina plays cricket in the boys' team in the village and has a strong, confident personality.
The Blair Dress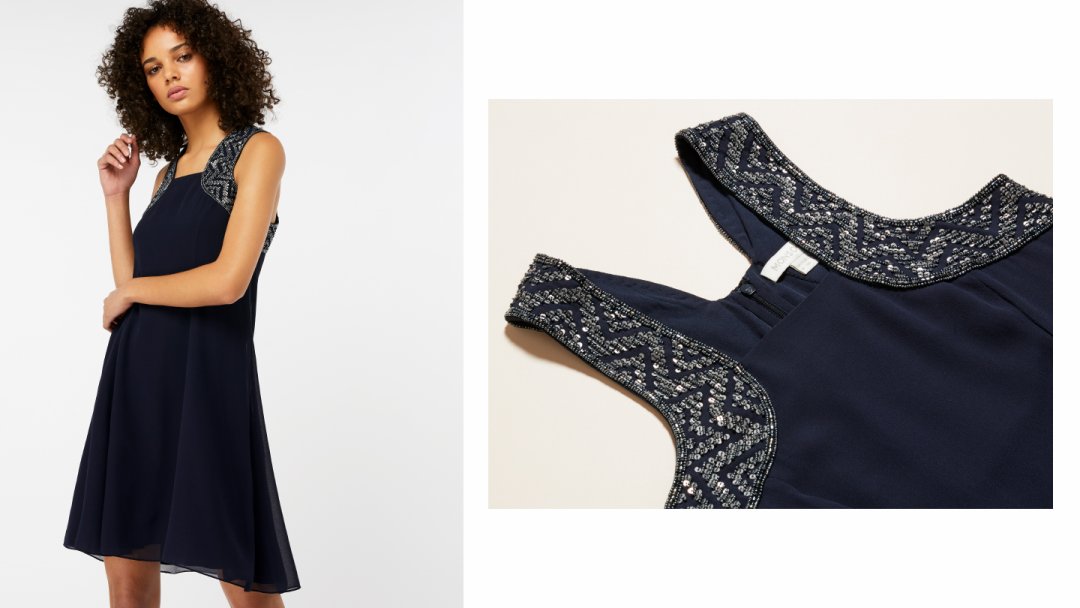 Perfect for this summer's most special invites, our Blair dress has been carefully hand-embellished with shimmering sequins and beads across the straps. Designed in classic navy, this sparkling style promises endless versatility throughout the seasons, taking you from dinner dates to weddings.
The Monsoon Accessorize Product Supply Chain
Here at Monsoon, we take responsibility for our product supply chain. We map subcontractor sites beyond our factories and keep a record of the artisans associated with them. Each worker is required to fill out reference forms with their details, as well as those of their family members. They're asked to affix a passport-sized photo of him or herself onto the form, and submit a proof of identification.
We've also introduced worker handbooks where artisans can track the number of pieces they've worked on and, in turn, keep a record of their wages. Upon payment from the subcontractor, each artisan then signs these handbooks. This helps create transparency in the supply chain by letting us know who is making our clothes, and allowing us to make sure that everyone has been fully paid.